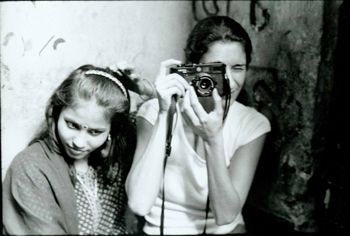 Zana Briski, Born Into Brothels:
Calcutta's Red Light Kids (See Friday @ 7 p.m.)
The 2008 Northern Lights Film Festival will be held April 3-5 in the McArdle Theatre at Michigan Technological University. The festival brings independent films and filmmakers to the campus and surrounding community, in addition to providing a venue for films by students and community members. For more information, contact
Erin Smith
or call (906) 487-3263.
Festival screenings are free and open to the public subject to seating availability.
Thursday | Friday | Saturday
Festival Schedule
Thursday
5:00
Cin/Optic Media Enterprise Team presents student Academy Award-winning films
7:00
The Death of Michael Smith

Friday
Noon
Documentary Shorts
4:00
Sisters in Law
6:00
Reception
7:00
Born Into Brothels with Geralyn White Dreyfous and Avijit Halder

Saturday
1:30
A Talk with Geralyn White Dreyfous
4:00
Short Films
5:00
In a Dream
7:00
Eco-Documentaries
8:00
Experimental Film
All films will be shown in the McArdle Theatre in the Walker Building on the Michigan Tech campus.
Campus Map